Trak Racer TR8 PRO Racing Simulator
TR8 Pro draws on feedback from it's predecessor to introduce more rigidity, more adjustment, and more accessories. TR8 Pro is Direct Drive and Belt-Driven Wheel ready, with Strengthened pedal deck adjustability and improved Gear Shifter Mount to mount all popular wheels, pedals and shifters. Compatible with PC and Console.
Description
TR8 Pro Racing Simulator
Solid rig with race seat and full adjustability
The TR8 Pro is an upgrade of the original TR8 and adds extra strength for the wheel, shifter and pedal plates and a lot more adjustment than what was on the previous TR8.
TR8 Pro Racing Cockpit
**Electronics, Seat and Monitor Stand are NOT included
Trak Racer TR8 Pro Upgrades
By gathering feedback from the most popular rig on the market, the TR8 we have released the updated TR8 Pro which has the following improvements and improvements to packaging to ensure the item reaches you as it should.
Strengthened Pedal Plate – The TR8 Pro has been improved to withstand up to 180kgs of braking for force without flex. We have also added pre-drilled mounting points for more new pedal sets on the market and the slide function on the TR8 remains – so you can get those pedals exactly where you need them!
More Adjustable and Strengthened Wheel Mount – We have added a wheel mount slider to the TR8 Pro to give you 130mm forward and back adjustment with the use of proprietary ball-bearing-assisted sliders. We have also strengthened the 2″ tube to withstand up to 35nm direct drive steering wheel torque without flex.
More Adjustable and Strengthened Left or Right Side Shifter Mount – The shifter mount has been strengthened by increasing the thickness of the mount and also the plate on the simulator that it mounts to. We have even added mounting points to enable the shifter mount to move forwards and back.
Complete Overhaul of Integrated Monitor Stand (optional) – The integrated monitor stand will become optional and now has height adjustment for the monitor, and also forward and back adjustment. The complete design has been improved to provide a more rock-solid mount.
Trak Racer TR8 Pro Overview
Direct Drive & Belt Drive Wheel Ready!
Compatible with PC and Console
Compatible with all popular steering wheels, pedals, and shifters on the market
Stiffened Dual-Supported NO FLEX Wheel Shaft
Integrated Single Monitor Stand to support displays up to 70" (Optional)
Superior build quality, stability, and comfort
Improved Left and Right-Side Gear Shift mount with pre-drilled mounting points and slide
Reinforced Angle and Distance Adjustable Pedal Mount, suitable for all the big brands!
Designed and Engineered in Australia
Frame/Chassis Features
Solid framework with no obstruction between your legs and no wheel side supports required
580mm wide for firm stance when racing
Low ground clearance with hard wood rubber floor protectors
Finished in 2″(51mm) high-grade steel tubing
Integrated Single Monitor Stand Features (Optional)
New Solid Mounting with Distance and Height Adjustment
VESA Mounting Bracket
Optional – Triple Monitor Mount
Optional – Large VESA Extension Mounts
Adjustable Wheel Mount Features
Unique and Rigid Distance Slider with Angle Adjustment
Solid construction to support Direct Drive Force Feedback Systems up to 35nm of Torque
Pre-drilled mounting points for all major brand wheels
3-Point Adjustment allows you to adjust the height and angle of the mount
*Patent design
Adjustable Pedal Mount Features
Fully adjustable bracket for both angle slide
Forward and Back Distance Slider
Welded steel frame on the underside of the mount for added strength
Pre-drilled mounting points for all major brand pedals including
Reinforced Left or Right-Side Mounting Gear Shift Mount Features
The Distance Slider mount allows you to adjust the position of the mount to the most ergonomic position for you
Angle Adjustment enabled you to face the shift mount inwards, flat, and outwards for customized adjustability
Pre-drilled mounting points for all major brand shifters including Thrustmaster TSS, Fanatec Clubsport, and more
Optional – Integrated Handbrake Mount
What's Included
2″ Industrial Strength Iron Chassis
Fully Adjustable Angle Pedal Mount with Distance Slider
Premium Seat Sliders
Left/Right Mounting Gear Shifter
Angle, Slide, and Height Adjustable Wheel Mount
Bucket Seat Mounting Brackets
Tools and screws included
Strengthened
Adjustable Pedal Deck
The TR8 Pro Pedal Deck gains its strength from the frame on the underside of it. It's adjustable with its sliding feature and has angle adjustment for the most comfortable driving position of any simulator on the market. Pre-drilled mounting points for all the major brand wheels including Fanatec, Thrustmaster, Logitech and more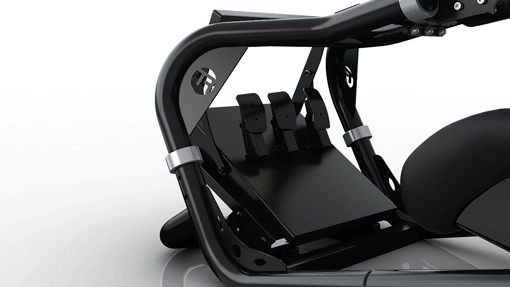 Improved
Adjustable Gear Shifter Mount
The included shifter mount incorporates 2-point-slide and angle adjustment functionality. Pre-drilled mounting points for all the major brand wheels including Fanatec, Thrustmaster, Logitech and more.
Mounts on Left or Right Side!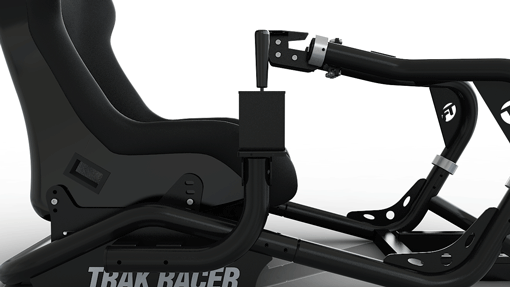 Trak Racer TR8 Pro Compatibility
Trak Racer has become renowned for both its strength and compatibility with all the top brand gaming peripherals on the market. Peripherals are not included unless mentioned in the description.
Wheel Base Compatibility:
Thrustmaster T500, T300, T150, TC-PS, TS-XW, TX, 248, T-GT, T80, TMX and T-GT II
Logitech G25, G27, G29, G920, G923
Fanatec Elite, Clubsport, Podium DD1/DD2/DD PRO and CSL DD
AccuForce V1/V2
SIMAGIC M10
Other Wheel Bases – may require mounting bracket (Trak Racer Direct Drive Mount recommended)
MiGe 130ST(small and big)
Bodnar 53 series
Simucube SC1 / SC2 Sport, Pro, Ultimate
SIMAGIC ALPHA / ALPHA Mini
Also, Flight/Heavy Equipment
Logitech Flight Yoke System (by clamp)
Logitech Flight Switch/Multi/Instrument Panels
Logitech Heavy Equipment
Pedal Deck Compatibility:
Fanatec CSL Elite Pedals, ClubSport V1/V2/V3 (including Inverted Pedals)
Thrustmaster T-LCM, T3PA, GT Ed, T3PGT, T3PA PRO add-on and T500, T150 pedals
Trak Racer Loadcell Pro Pedals (Coming Soon)
Heusinkveld Ultimate/Ultimate+, Sprint and Pro
Logitech G29, G920, G923
Meca Cup1-2, Meca Cup1-3, Clutch and Base Plate
VRS DirectForce Pro Pedals
HPP PRX 3P, JBV 2/3 Pedal System
Simagic P2000-S100 Pedal Set
BJ Sim Racing Steel Series, 1000psi Hydraulic
DC Sim Racing DC3
Sim Coaches P1-3
Simtrecs ProPedal GT
Asetek Hydraulic
Velazquez Engineering PRO+ Hydraulic
Simforge Mark-1
3DRAP Ngasa
Protosimtech PT2
OBP Pro Race V2 Sim Pedal System
Simworx Pro Series
WAVE IMPETUS
Quaife Throttle Pedal and Brake
Cube Controls Hydraulic
Also, Flight/Heavy Equipment
Thrustmaster TPR: THRUSTMASTER PENDULAR RUDDER
Thrustmaster T.Flight Rudder Pedals
Logitech Flight Rudder Pedals
Logitech Heavy Equipment
Shifter Mount Compatibility:
Fanatec ClubSport Shifter, SQ
Thrustmaster TH8A, RSTSS, TSS+
Prosim PSL Sequential Shifter
Trak Racer Sequential Shifter Pro (Coming Soon)
Heusinkveld SQ Shifter
Logitech G Shifter
DSD SQ Shifter
Jinx Shifter – additional mount required
Simworx Pro Series – additional mount required
VNM Simulation Sequential Shifter
Quaife PSL Sequential V2, Sequential and H Pattern – additional mount required
Aiologs SQ Shifter
BJ Sim Racing Shifter 3.0
Frex H Pattern
Contact us if your Product is not listed – Handbrake mounts also available
Additional information
| | |
| --- | --- |
| Weight | 22 kg |
| Dimensions | 60 × 60 × 60 cm |
| Seat Add-Ons | No Seat, GT Seat, Rally Seat, Recline Seat Red/Black, Recline Seat Red, Recline Seat Black |
| Seat Bracket Add-On (if adding Recline seat) | No Seat Bracket (Included), Seat Brackets for Recline, Base Mounted Race Seats |
| Monitor Stand Add-On | No Stand, TR8 Pro Single Stand, Timbre Single Stand, TR Single (upto 80'')Stand, TR Triple (34-45'') Stand |
Only logged in customers who have purchased this product may leave a review.