TR8020 Universal Shifter Mount
Fully adjustable and pre-drilled two-way universal shifter mount for all major brands and mounts to any 40mm wide 8mm slotted aluminium profile. Perfect add-on to your TR Sim Rig.
Description
TR8020 Universal Shifter Mount for 40mm wide Aluminium Profile
Pre-drilled for all Major Brands and mounts to any 40mm
Fully Adjustable and Pre-Drilled Two-way Shifter Mount for 40mm wide 8mm Slotted Aluminium Extrusion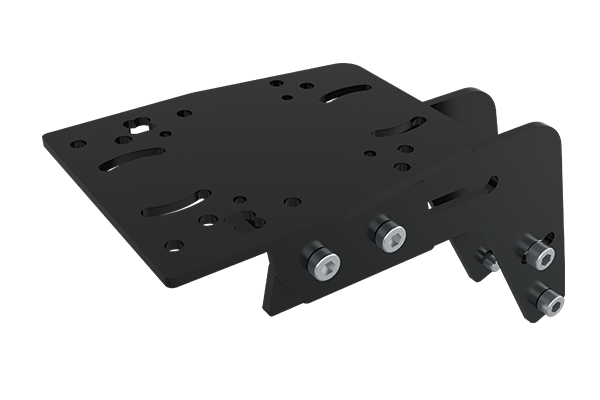 This rigid gear shift mount sits firmly on the TR160's 80mm x 40mm premium aluminium profile using 2 slots to allow you to slide up and down to your perfect position and angle adjust. The included bracket has it's own sliding function for a more precise position as well as 3 angle adjustment. Shifter and handbrake bracket details
This bracket is compatible with the following shifters (and more) :
Shifter Mount Compatibility:
• Fanatec ClubSport Shifter, SQ
• Thrustmaster TH8A, RSTSS, TSS+
• Prosim PSL Sequential Shifter
• Trak Racer Sequential Shifter Pro (Coming Soon)
• Heusinkveld SQ Shifter
• Logitech G Shifter
• DSD SQ Shifter
• Jinx Shifter – additional mount required
• Simworx Pro Series – additional mount required
• VNM Simulation Sequential Shifter
• Quaife PSL Sequential V2, Sequential and H Pattern – additional mount required
• Aiologs SQ Shifter
• BJ Sim Racing Shifter 3.0
• Frex H Pattern
Reinforced Left or Right-Side Mounting Gear Shift Mount Features
The Distance Slider mount allows you to fine-tune the mount to the most ergonomic position for you
Angle Adjustment enables you to face the shifter mount inwards, flat or outwards for more customised adjustability
Pre-drilled mounting points for all major brand shifters including Heusinkveld, DSD, Thrustmaster, Fanatec and more
Only logged in customers who have purchased this product may leave a review.